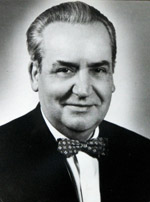 Joseph Octave Eugene Adalbert "Bert" Paris was born in the year 1900. He married Augustine Roch in 1928 in Tétreaultville, Montreal. He served as Commissioner of the School Board of Côte Saint-Luc for 10 years, and an additional 2 years as Chairman of that board, prior to his election as Mayor in 1953. He become Mayor of Côte Saint-Luc for a period of 10 years, from 1953-1963. During his first election candidacy, he ran with councilor candidates Maurice McAlear, Auguste Decary and Francis Baily. In 1961, he is elected as Mayor for his fifth term against the "Clean Slate" coalition, led by mayor candidate Lorne Grinstein.
His accomplishments as Mayor include the inauguration of a police and fire station, with new equipment and the training of a firefighter crew, the widening of Côte Saint-Luc Road from the tracks westward, additional and greatly improved park and playground facilities, and a new sewer system, among others. Mr. Paris fought for the northward extension of the Cavendish Boulevard through the CPR tracks. Most importantly, the Town of Côte Saint-Luc became a City under the leadership of J. Adalbert Paris.
After his election as Mayor in 1953, J.A. Paris was instrumental in forming an Advisory Committee composed of leading citizens, its purpose being to consider and report with recommendations to Council on matters of public interest concerning municipal development. In June 1953, the Mayor reported to council that the following citizens had volunteered to act on the committee: Dr. L. N. Poch, Messr. Jack H. Fyon, C.L. King, Donald Fletcher, K. Ball, R. Cousineau, Don Heywood, H. Conklin, Eustache Prud'homme, R.G. Scroggie, C. Rittenhouse and A. McMurray.
After the 1955 elections, Mayor Paris announced that it was his intention to re-organize the Advisory Committee by appointing new members from the various developments occupied by new residents so that the group would be more representative of the Municipality at large. He requested that the various Home Owners Associations name three citizens from each Association from whom a representative to the Advisory Committee would be selected. (The Suburban or The Monitor, 1959).
Mayor Paris passed away in Sarasota, Florida on May 12, 1980, at the age of 80. He was finishing up a round of golf near his retirement home in Sarasota when he suffered a heart attack. He was buried in the Côte-des-Neiges Cemetery. He is survived by his wife, Augustine Roch, his two sons, and his daughter. (The Monitor, May 21, 1980; The Suburban, May 14, 1980).
From: Côte Saint-Luc Archives