Working on a research project, or simply curious about CSL history? The library can help!
See below for a list of helpful research avenues.
Côte Saint-Luc Library Archives
The library houses an array of information regarding the history of Côte Saint-Luc. Old documents, photos, newspaper clippings and much more! Contact reference with your questions.
The Suburban

The Suburban is Quebec's largest English weekly newspaper and features several articles about CSL history. Founded on March 1, 1963 in Sophie Wollock's basement on Davies Avenue in Côte Saint-Luc, the paper covers news, sports, photography, opinions, community activism, and feature stories.
The library has numerous years of the newspaper that can be consulted on site as well as microfilm going back as far as 1982.
Scanning Station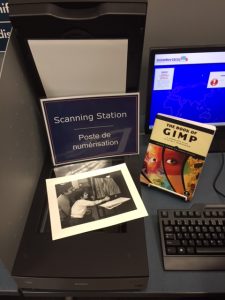 Use the library's scanner to help preserve your old images and documents. The station is equipped with a computer and an Epson Perfection V800 scanner. The following software is available to edit your material: Epson Scan, SilverFast 8, Paint.Net and Gimp.
With this scanner you can:
Remove the appearance of dust and scratches from film

Scan your photos and renew color with just one click
Digitize slides, negatives, medium- and large-format film
*Members must have a valid library card to reserve the scanning station.