Study rooms
Need a place to meet and discuss as a group? Looking for a quiet place to study? If you are a member of the library, you can use one of our study rooms.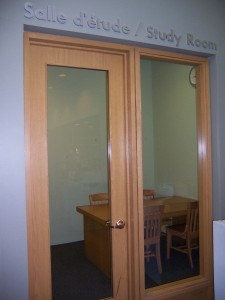 To reserve your spot, please call the Reference Desk at 514-485-6900, ext. 3. You can also book by email at reference@cotesaintluc.org.
To book a room, one must be a member with a valid library card and 15 years and over.

The rooms can be booked by the hour to a maximum of 2 hours per day.

Bookings will be cancelled if the room is not claimed within the first 15 minutes.

The Library reserves the right to cancel reservations for maintenance or other unforeseen circumstances.

The person who has booked the study room must remain in the room.

Room capacity must be respected. The main study room can accommodate 4 people and the small study room 2 people.

All users are expected to follow the library's Code of Conduct. Disruptive, threatening, or otherwise abusive behaviour will not be tolerated. Repeated disruptive behaviour may result in loss of privileges.