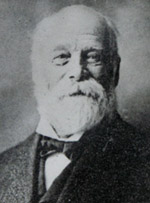 The Prud'homme Family goes back to the founding of Montreal. Luc Prud'homme is a direct descendant of Louis Prud'homme, who arrived in Ville Marie with Paul Chomedey de Maisonneuve in 1641, contracted by the Sulpicians to found a colony.
Louis Prud'homme was born in Pomponne, France in 1611 and came to Ville-Marie in 1641. He was Montreal's first brewer and captain of its militia.
In the 1650s, Louis Prud'homme and others (Décarie, Leduc and Lemieux families) were given grants of farmland in eastern NDG as rewards for their service. They cleared the land, discovering it to be exceptionally fertile. The Prud'homme family has been farming in Côte Saint-Luc since the 1700s. The early Prud'homme lands stretched just west of Décarie where Prud'homme Avenue now stands. They were exceptionally known for their apple orchards.
However, the first recorded Prud'homme in Côte Saint-Luc was Jérémie Prud'homme (1766-1846). He is listed by the Sulpicians as one of the twenty family heads living in Côte Saint-Luc in 1818. He was married to Marie Louise Décarie (1769-1855), another important farming family. Jérémie had sons Gervais and Eustache. Gervais was Luc's father.
Gervais Prud'homme (1797-1886) was married to Scholastique Leduc (1800-1862), Luc's mother. We are not sure, at this juncture, where his land was, however by 1872,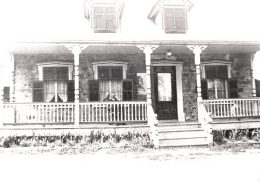 his descendants owned the land where the Côte Saint-Luc Shopping Centre now stands, as well as plots of land further west towards Westminster. Lots were 30 acres long and about 3 acres wide running north-south.
Jérémie's other son, Eustache (1794-1872) acquired the land next door towards Westminster. Eustache was married to Catherine Hurtubise (another great farming family). In 1849, Eustache Prud'homme sold 30 acres of his land to build the Roman Catholic Church of Notre-Dame-de-Grâce, which still stands near the corner of NDG Avenue and Décarie boulevard. His son Jérémie (1825-1902) was married to Sophie Lortie and farmed Lot 105. Their son Eustache Jr. farmed Lot 98, which was beside Luc. Their son Joseph had Lot 104. Jérémie and Sophie's sons Eustache, Jérémie and Gervais went on to be councillors in Côte Saint-Luc.
Luc Prud'homme was born in 1834. He was appointed School Commissioner for the Municipality of Notre-Dame-de-Grace West (which was then the area of Côte Saint-Luc) in the County of Hochelaga until 1891 (Gazette Officielle du Quebec, 3 octobre 1891).
When the NDG Parish was dismembered in 1903, Côte Saint-Luc detached from the group of four regions which composed the NDG Parish (Village Turcot, Côte Saint-Antoine, Côteau Saint-Pierre and Côte Saint-Luc). At the time, Côteau Saint-Pierre was undergoing various improvements to their area, such as building aqueducs, canals and installing lights. The region of Côte Saint-Luc did not want to finance these improvements, as they would not benefit from them. Therefore, the owners of the area of Côte Saint-Luc asked the Quebec Parliament for a corporate charter of village, and so the Village of Côte Saint-Luc was founded in January 1903 (Gazette Officielle du Quebec, February 14, 1903). Luc Prud'homme, Joseph Prud'homme, Pierre Lemieux, Stanislas Viau, Francois-Xavier Décarie and Henri Décarie were elected Councillors. In July of 1903, the Councillors got together and elected Luc Prud'homme as first Mayor of Côte Saint-Luc (La Presse, July 11, 1903).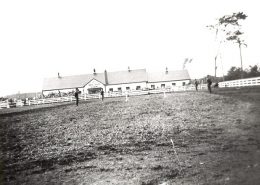 Mayor Prud'homme was well-known for his probity, his spirit of initiation and his entrepreneurship. His farmhouse, located on Lot 95, stood where the Côte Saint-Luc shopping center is now situated. His land was sold in the 1940s, becoming a riding stable (Red Top Barn) and then sold in the 50s to developers. He married Julie Senecal, who came from another early farming family in Côte Saint-Luc. They lived on the farm with his children Joseph, Marie, Luc, Ezilda and Victoria, along with Luc's sister Celina, his brother Gervais and their father Gervais.
He passed away in 1919, at the age of 85. Prud'homme Park was subsequently named after him in 1989. The street Prud'homme Avenue in NDG is named after another relative, Léon Prud'homme (1824-1904), who owned the land where this street runs through.
From: Côte Saint-Luc Archives, Bibliothèque et Archives Nationales du Québec
For more genealogical information on the Prud'homme family, visit: http://www.lesprudhomme.org/files-f/doc/chap1-prdhm_hist_gen.pdf http://www.lesprudhomme.org/