Côte Saint-Luc Jane's Walk 2020
Life in the Village of Côte Saint-Luc
In 2020, due to the COVID-19 pandemic, the Côte Saint-Luc Public Library, along with the support and participation of City Councillor, Dida Berku, lead our city's annual Jane's Walk as a virtual tour. Our main focus was on the area of Côte Saint-Luc that was hitherto known as "The Village", which became the main residential hub of Côte Saint-Luc starting in the 1920s. We virtually explored landmarks, buildings and houses, along streets such as Côte Saint-Luc Road, Westminster, Wolseley, Hudson, Westover and Wavell. These homes are among the oldest in CSL and have historical significance.
Narrated by Councillor Dida Berku and Library Director Janine West, this LIVE virtual tour was published on the library's YouTube Channel.
You can also follow along at your own pace:
Table of Contents
Stop 1: Public Safety Building (8100 CSL Road)
Stop 2: Davies Family Houses (8081-8083 CSL Road)
Stop 3: Kirwan House (8035-8037 CSL Road)
Stop 4: James Alfred Nice House (680 Wolseley)
Stop 5: McCubbin House (635 Wolseley)
Stop 6: Westover Road (St-Pierre River)
Stop 7: Bob Dallison House (600 Westminster)
Stop 8: Edouard Prud'Homme House (618-620 Westminster)
Stop 9: Corner Westminster and Côte Saint-Luc Road (École Pie IX, City Hall, Galardo's, Farms)
Stop 10: Fred Lamont's House (5509 Hudson)
Stop 11: Westminster Extension and Underpass
Stop 13: Donald Fletcher House (5618 Wolseley)
Stop 14: Home at 5651 Wolseley
Stop 15: Edgewood Nurseries and the Van Egmond Family (5640 Hudson)
Stop 16: Allen Greenhouse and Home (5615 and 5619 Hudson)
Stop 17: William Dallison first house (5606 Hudson)
Farming community:
In its early days starting in the mid 18th century, Côte Saint-Luc was a predominantly French-speaking, farming, Catholic community. These first families, including such famous names as the Prudhommes and the Decaries, were fairly successful landowners and farmers. Right up until the mid 20th century, Côte Saint-Luc remained very agricultural in nature with a very slow population growth. Specifically, from 1820 to 1920, the population only grew from about 200 to about 500.
Growth of the village:
But at the beginning of the 20th century, CP Rail bought some farmland which is now Meadowbrook Golf Course to become a recreational playground for its employees leading it to become an attractive residential area. This was a time when new, predominantly anglophone families were starting to move into the area, and "The Village" was slowly becoming an anglophone enclave within Côte Saint-Luc. By the mid 1930s into the 1940s, it quickly became a tiny, tight knit community of approximately 40 families who knew each other well. Many participated in city life, as mayor, as councillors or employees of the City of Cote Saint-Luc. They lived surrounded by streams, fields and farms. By 1940 the population had reached about 800. The only streets were Côte Saint-Luc Road, Westminster, Wolseley, Hudson, Smart.
Public Safety Building
We are looking at 8100 CSL Road, which is the City of Côte Saint-Luc's Department of Public Safety. The building stands on the site of the Lemieux farm, one of the very first farming families to arrive in CSL. Pierre Lemieux was the 2nd mayor of CSL, after founding mayor Luc Prud'homme, and the longest serving mayor. He was mayor from 1905–1909 and from 1912–1938. He built this house in 1927, and it was sold to the Village of Côte Saint-Luc by his son, Leopold Lemieux, in 1946, after his father's death.
City Hall – 1946
The house almost immediately became CSL's first official City Hall, and was in use until 1964, when City Hall moved to the École PieXI building at 594 Westminster which we will be visiting later on. It then served as the home of the Recreation Department, until it became the Department of Public Safety.
Lemieux Barn
The Lemieux family had owned the land which bordered Westluke and Wolseley and ran north-south almost to Mackle since the mid-1700s. His farm and barn would have been here, on the other side of the City Hall building on CSL Road. The Lemieux barn, pictured here, was located a little further west between Smart and Wolseley.
Lemieux Farm – 1930s
Here is an image of the Lemieux Farm in the 1930s. We can see a horse pulling a sled. In the background, we see his farmland.
Located right across the street from the City Hall, one sees the houses at 8081 and 8083 CSL Road which belonged to the Davies Family. Aubrey Edgar Davies (born 1909 in Wales) and his brother Ernest George Davies (born 1911 in Wales) arrived in Canada with their parents, Harriet Ann Jenkins Davies and Aubrey Edward Davies , and their sisters on April 4, 1928. The house was built in 1946. As you can see the house is semi-detached and it was built and shared by the two brothers.
8083 CSL Road- Home of Aubrey Edgar Davies
8083 was the house of Aubrey Edgar Davies, known as Edgar, who was a
Councillor in CSL from 1949-1952, presiding over seat 5. He was put in charge of the health committee and was a butcher by profession. He married Mollie Hewitt on 29 June 1936. They had a son named Frank Geoffrey Lloyd Davies, who was born July 8, 1945. F. G. L. Davies had 3 daughters Krysta, Kelly, and Kerri. Edgar Davies passed away on June 15, 1981. On July 21, 1954, the City of Côte Saint-Luc named Davies Avenue (previously Fletcher Avenue) after Edgar Davies in homage to his hard work as Councillor for the city. Edgar Davies Park in MTL West is also named after him. His son, Frank Geoffrey Lloyd Davies, died not long ago on August 15, 2011.
8081 CSL Road – Home of George Ernest Davies
The adjacent house at 8081 CSL Road,, belonged to his brother, Ernest George Davies. Although not a Councillor like his brother, George Davies was still an important individual in the history of CSL, as he and his brother ran a grocery store called Davies' Bros on 58 Westminster in Montreal West. On the sign in the front of the shop read "purveyors of fine foods". Everybody in "the Village" shopped in MTL West on Westminster as those were the only stores in the area. Ernest George Davies passed away in September 1991.
Our third stop is at the home of the Kirwan family, who lived right beside the Davies family on the other side of Wolseley Avenue. Edward J. Kirwan built this home in 1935. Kirwan was known to have been one of the more reputable councillors of the city and is often referred to as one of the "founding fathers" of Côte Saint-Luc. Another nickname was Mr. Recreation.
Kirwan home
The Kirwan family moved into 8037 from their original home on Wolseley which we will be visiting after. Edward J. Kirwan lived here with his wife Micky, and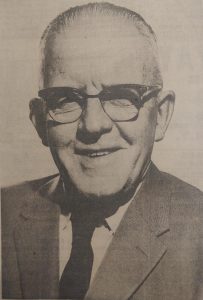 his son Gerald (Gerry) who was born on March 1, 1924. Gerry later moved into 8035 which looks like it was an addition to the original home. Here Gerry and his wife Isabel raised their 3 daughters, Jo-Anne, Jill, and Janice. Isabel still lives at 8035 and we had the pleasure of meeting her and her daughter Janice. They shared many stories including a small memoir written by Jerry Kirwan entitled the Kirwan Chronicles which documents life in CSL in the early 20s, 30s and 40s as told to him by his father.
Life in CSL in the 20s and 30s was like living in the country, he says. Water was provided by wells, covered by wooden tops. Only some homes had Artesian wells. To obtain water, one needed to pump a wooden handle at the kitchen sink. For the refuse, they used cesspools which sometimes overflowed into the ditches along side the roads. Paved roads were non-existent. Hudson, Wolseley and CSL Road were all dirt roads. Many times, escaped horses and cows from the neighboring farms would be found in the back yards of those who lived in the village.
Councillor Kirwan
Edward J. Kirwan was born in Montreal in 1893. He received his primary and secondary education at Collège Notre-Dame. He began his career working in a bank. After WWI, he organized his own trucking business. He started with one truck, but the business started to grow rapidly until in 1959 he had 18 trucks and a staff of 28. He was first elected to city council in 1923 and served the city for over 40 years, watching it grow from a rural village to a thriving municipality. He served on Council from 1923-1938, 1944-1955, 1959-1974.
Bilingual Kirwan
The story goes, is that one of the reasons he was asked to be an alderman was that he was bilingual. From its origins in 1903, all city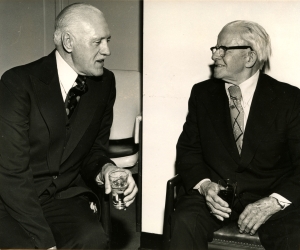 council business was done in French. The mayor and the aldermen at the time were french farmers with little or no English. If a question was asked at a council meeting in English, it could not be understood let alone answered. Ed Kirwan was educated in French at College Notre Dame. Apparently Alderman Cousineau, Prud'homme, Dion and Lemieux all said "Nous avons besoins d'un tit gar comme Ed." because he was bilingual. He became the first alderman who was completely at home in both languages.
Police force
Kirwan (right) and Gerard Cloutier (left) founded the Côte Saint-Luc Police Force during the early 1930s.
Kirwan passed away in 1980, at the age of 88. Kirwan Park, previously Wentworth Park, which is the oldest park in Côte Saint-Luc, was renamed after him in 1976. Today, the Edward J. Kirwan Award honours the Volunteer of the Year for exceptional contribution to the community's parks and recreation programs. Jerry Kirwan, his son, died June 28, 2008 in his 84th year.
The Nice family had strong ties to CSL. James Alfred Nice was born around 1887 in Liverpool, England. He arrived in Montreal aboard the Tunisian in 1908, at 21 years of age. He married Mary Jane Henney in 1912 at the Saint-Philip Anglican Church in Montreal-West. A brick mason by profession, James Alfred Nice built this row house in 1912 at 680 Wolseley. He lived there until his death in 1958.
The Nice Family moved to Smart Avenue
His first son James Alfred Jr. was born and baptised in 1915 at the Presbyterian Rockfield Church in Montreal. When James grew up, he built his house at 5505 Smart Avenue, or 685 as it was numbered then. This would have been around 1947. He lived there until 1961. James worked for the City of Cote Saint-Luc as the head of Public Works. He had 2 brothers, Harry and Norman who also built houses on Smart. Harry and Josephine Nice lived at 681 Smart, Helen and Norman Nice lived at 683, and James and Dorothy Nice lived at 685.
James's daughter Diane, who was the eldest of five children lived there until she married in 1958. Diane has fond memories of growing up in CSL. She remembers climbing trees in the apple orchard on CSL Road, Galardo's Restaurant, walking through Sortin Yards to go to the movies in Lachine, the Lemieux farm, Dinomite Road which led to more farms across the tracks. Attending Elizabeth Ballantyne School in Montreal West, she would walk to school everyday crossing the bridge over the tracks which had been constructed in 1938.
Norman Nice – 684 Wolseley
Norman would later build a house next door to his father's on Wolseley.
Nice Road
In honour of his contribution, James Nice has a street named after him, Nice, which is near Fleet Road, west of Cavendish, between Robinson and Northluc.
Down the road on Wolseley lived Ivan Edgar McCubbin. He was born in 1892 in Quebec and married Catherine (Kate) Annie Hodge at the Saint-Andew's Presbyterian Church in Lachine in 1916. He and Kate and their daughter Eileen lived at 312 Saint Patrick Avenue in the Glenn Farm region of Lasalle in 1921. Ivan McCubbin was a carpenter by profession.
Home of Ivan Edgar McCubbin
He built this house in 1927. As we can see here, this is his house at 635 Wolseley still stands today.
Councillor McCubbin
He became a Councillor of the municipality from 1936-1941. He was put in charge of fire protection and was influential in the creation of a system of fire protection within the municipality. He was then put in charge of the Buildings Department and put forth a motion to adopt a new By-Law 59 regarding the maintenance of current buildings and future buildings in the municipality. In honour of his contributions, the City named a street for him nearby.
The road we are walking along now, called Westover Road, was actually built over a tributary of the old Saint-Pierre River. The Saint-Pierre River is one of more than 30 rivers and streams that once traversed the island of Montreal. It traveled from its source on Mount Royal via several tributaries to Côte Saint-Luc, Ville St. Pierre, St. Henri and Verdun to Pointe-a-Callieres in Old Montreal and Angrignon Park in Lasalle. Settlements grew up around streams. Country roads like Côte-des-neiges and Côte Saint-Luc traced their contours.
Saint-Pierre River – 1938
Part of the St. Pierre river ran alongside Côte Saint-Luc Road and into the Meadowbrook Golf Course, which is the only stretch of the river that is still visible today. By 1961, most of the streams in CSL were buried.
Skating on the Saint-Pierre River
In the winter months, the Saint-Pierre river would freeze. Many Cote Saint-Lukers would take the opportunity to go out and skate, as is visible on this image. Bob Dallison, whose old home we will soon see, recalls skating on the Saint-Pierre river in the winter months.
Leonard Dallison grew up first at 774 Hudson and 835 Wolseley Avenue which we will be visiting soon. When he got married to Olga Schonberg, he moved the house located here at 600 Westminster. Today, his house at 600 Westminster is barely recognizable due to extensive renovations. Leonard and Olga went on to have 3 children, Robert known as Bob, Jean and Frank. Bob Dallison met with us and provided a great deal of information about growing up in CSL during the 40s and 50s.
Leonard Dallison home
Here is an image provided to us by Bob Dallison. The Saint-Pierre River (which they called the Creek) circled the flat on both sides. There was a wooden shed behind the flat close to the Saint-Pierre River that was used as a two car garage. There was also a driveway running close to the Flat on the creekside.There was a foot bridge that was built during the war by his neighbors to give access to the Victory Gardens. These gardens were located across the bridge, where the ground had different colors. That was where his parents and his neighbours had their gardens and they did their bit for the war effort.
Closer to train tracks, where Edinburgh Elementary School now is, lay the cabbage fields, owned and farmed by the Prud'hommes. Bob Dallison and Diane Nice Morgan both remember a terrible stable fire on Westminster near the creek bridge just before the overpass. They will never forget the screaming of the horses.
Farms
Almost opposite to Bob Dallison's flat is the entrance to the Prud'homme farm. There was a complex of farm buildings and a stone farmhouse. These were far from the street with hay fields in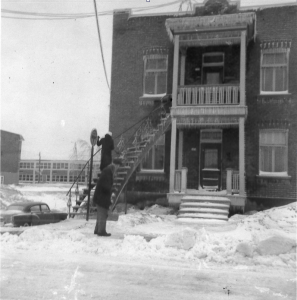 between. The entrance to this second farm is from Cote Saint-Luc Road. After the war, a tall wooden fence enclosed this farm house, so you could no longer see who and how many people were visiting. It is said to have become a gambling den.
Around 1959, a fire demolished the 200-year old farm which belonged to Jeremy Prud'homme. This was the last of farm houses in CSL. Juveniles may have been responsible for starting the fire. City Works superintendent J.A. Nice could see the fire from his window Smart Avenue. He says he saw the whole sky red with light and thought that it was the Westminster apartments that were ablaze.
The farm was one of the three built by CSL pioneers in around 1750. The farms were built along the Saint-Pierre River (now Westover), since the river served as transportation in those days. Jeremie Prud'homme, owner of this farm for 60 years, had bought the property from Firmin Desjardins. When Jeremie died, his 13 sons sold off the property to the Berman Company. The house had been vacant for 4 years, only to be frequented by children using it as a hideout. Edouard Prud'homme, one of the 13 sons, grew up on the farm. He and his brothers had worked the land for market gardening.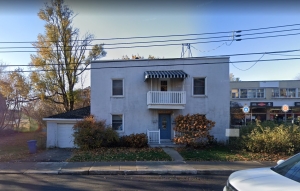 This stucco house (at 618-620 Westminster) belonged to Edouard Prud'homme, the son of Jeremie Prud'homme, who lived there after their farm house was sold and demolished. The Prud'homme farm, located at 613 Westminster, would have been across the road.
Moving up Westminster, the location of B'nai Brith used to be a French catholic school. Its old address was 674 Westminster (now 8000 CSL Road). It was the only school in CSL and served the children of the farmers. As English speaking families came into the area, they had to send their children to schools in Montreal West, such as Elizabeth Ballantyne elementary and Montreal West High School (now Royal West).
École Pie XI
The school was often used for Sunday mass and council meetings in the 30s and 40s after the Sulpician Church at the corner of King Edward and CSL Road was sold.
City Hall – 1964
The CSL City Hall moved there permanently from 8100 CSL road (former home of Pierre Lemieux) in 1964. At that time the property was owned by Ivanhoe Corp and the city rented it for 18000$ a year. The school became somewhat of a gathering place for the CSL villagers. The building required many renovations to convert the school to a city hall. The chapel was converted to the finance department.
There was a gym in the basement. It was mainly used for exhibits and as an auditorium, though sometimes the children had some gym activities there. There was a double classroom where the Council Hall was moved.
The nun's quarters were upstairs at the front of the building. They had a kitchen and an ironing board, but they never lived at the school.The schoolyard was at the back of the school and was converted into the city hall parking lot.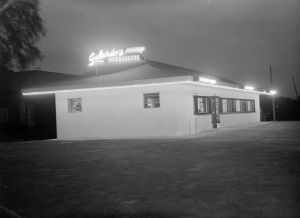 Galardo's
Across the street from the school on the north-west corner of CSL road one could find the famous Galardo's which served hamburgers, hotdogs and fries. Galardo's was one of the very few restaurants in Côte Saint-Luc at the time. Diane Nice Morgan worked there as a waitress when in the 50s.
North-East corner – 1937
Here is a photo of an old-style car driving along Côte Saint-Luc road at the corner of Westminster. Taken in 1937, the angle in this image shows us the north-east corner of this intersection. Galardo's would have been in the north-west corner and École Pie IX/City Hall would have been in the south-west corner. The Prud'homme farms, as mentioned at stop 7, would have been at the south-east corner. The CPR train tracks are visible in the back, as well as an old style bell telephone cable traversing the photo.
Field Day for Eight O'clock Club – June 18, 1937
This photo was taken in the open fields at the North-East corner of Westminster and CSL Road on June 18, 1937.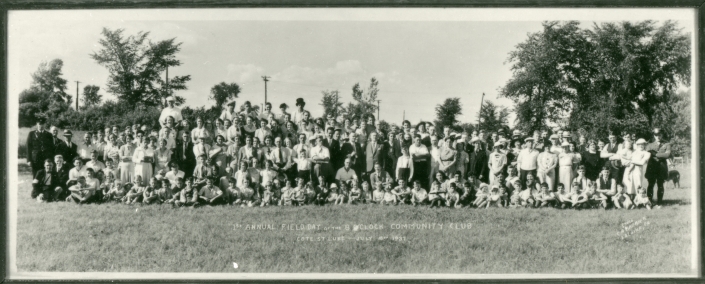 The duplex at 719 and 721 Hudson Avenue (current address 5509-5511) was built in 1925. Frederick David Lamont, fourth Mayor of Côte Saint-Luc, lived here with his wife, mother, and sister. He was born in 1893 at the Stanley Street Presbyterian Church in Montreal. He married Edith Norval May Mcenzies in 1928 at the same church. Throughout his life, Lamont worked as a secretary and treasurer for various mining companies, as well as being manager for investment firms.
Councillor and Mayor Lamont
From 1929 to 1937, he was City Councilor in Côte Saint-Luc under the leadership of Mayor Pierre Lemieux. He served as chairman of the finance committee. He got elected as Mayor in 1938, for a one year period. He resigned on March 7, 1939 and was followed by Mayor Donald Fletcher. Lamont passed away in 1969, at the age of 76, in Pinellas, Florida.
Before the 1950s, Westminster stopped at CSL Road. Beyond CSL Road there was just farmland. The railroad crossing was actually one street over on Hudson. On September 23 1947, the city of Cote Saint-Luc and the Canadian Pacific Railway reached an understanding that would permit the extension of Westminster from CSL Road across the railway tracks. But it was not until the 9th of April 1951 that an agreement was actually signed. The agreement specified that the extension of Westminster to Mackle would be undertaken by the CPR company.
Crossing, Bridge or Underpass?
It would initially consist of a level crossing with the eventual construction of a bridge over the railroad tracks and the closure of the Hudson crossing. It soon became apparent that construction needed to occur sooner than later. Donald West remembers the long line of busses stopped at the tracks when trains rolled through. Rather than a bridge over the tracks, the underpass that we see here today was built. It was officially completed on June 22, 1959.
Complaints
Many residents of the area, such as Mr. Bergeron of Wolseley Avenue, complained about the hardship encountered by the closing of the Hudson Avenue level dressing. Unfortunately, the Board of Transport Commissioners informed that the request for a foot passage at Hudson could not be granted.
Another complaint came from Mr. Donald Fletcher (past mayor of CSL whose house we will later see), who spoke about the inconvenience caused by Wavell Street not being opened. He mentioned that the fare in a Taxi was .150 above the regular rate by having to go via Guelph Street. The same applies to car owners on Wolseley and Hudson Ave. Mr. Fletcher wanted to know what steps had been taken to obtain the land necessary to open Wavell Street, saying that the question was on the table for the last three years and he did not see it further advanced.
Walking under the railway tracks from Westminster through this small foot passage, we reach Wavell Road, which used to be called Depression Lane before it was renamed in 1950. We are not sure why, but a theory is that this street, which is adjacent to the railway tracks, was, geologically speaking, a depression. It was not a formal street, rather a lane or walkway of sorts. The street was renamed after Sir Archibald Wavell, who was a British intellectual, diplomat and military leader. The street officially opened in 1951 and the first home constructed here was 1952.
Born in 1873 in Dunvegan, Ontario, Donald Fletcher came to Quebec at a young age and lived in Côte Saint-Luc for almost half his life. He was living at 241 Wolseley Avenue, in Montreal West, from around 1915 to 1922. In 1922, he moved to 804 Wolseley Avenue in Côte Saint-Luc (which became 5618 Wolseley in the 1950s). The house he lived in was built in 1914. Previously there was another house on this land that was built in 1886. Apparently, there was a beautiful rose garden next door tended by Mrs. Fletcher.
Councillor and Mayor Fletcher
He was one of the pioneer residents of the Parish of Côte Saint-Luc and watched the community grow into a full-fledged city. He served as Alderman for 10 years, from 1929 – 1939, and was elected Mayor in 1939 until 1951.
An engineer by profession, Mayor Fletcher had a keen interest in building by-laws and the inspection of buildings. He helped draft a plan whereby single-family homes and industrial areas in the municipality are kept apart. His constant encouragement to builders and zoning restrictions evoked the interest in one-family dwellings and created the subsequent growth of the City. He served as member of the advisory committee to the Mayor of the time, J. Adalbert Paris, which was formed in 1953 and remained as a member until 1958.
Mr. Fletcher was an elder of Montreal West United Church and served as its treasurer for 20 years. He passed away in 1962, at 88 years of age. He left behind his wife, Alice Smith (Agnes) Miller and two daughters, Grace and Jean Fletcher, who lived in the house until the early 90s.
The home at 865 Wolseley, today 5651, was built in 1915. It was purchased at some time by William J. Henderson who may have lived in it, but who was later recorded as living at 856 Wolseley. This was a home that he rented out, probably first to Edward J. Kirwan in the 1920s and 1930s. Ed Kirwan, as we previously saw, left around 1935-36 to live in the house he built on CSL road.
This house was then rented to William Dallison and his family, a good friend and golfing buddy of Henderson's. When Henderson died, an opportunity arose for his son-in-law, John Henderson to to purchase it. John and his wife (Gertrude) Alice Henderson raised their family of 6 children there.
It finally became the home of the Van Egmond Family, the owners of Edgewood Nursery, located right beside the home. The Edgewood Nurseries had their entrance on Hudson (5640), but spanned the whole area between Hudson and Wolseley. You can see the home at 5651 in the background.
Right around the corner we have the old entrance to the Edgewood Nurseries. Edgewood Florist and the Van Egmond family have been part of the Côte Saint-Luc landscape for more years than most residents of this city. Established here in 1956, they have played a special role in the lives of thousands of our residents over the decades making milestone events all the more special with their beautiful floral arrangements. In 1991, the original greenhouses on the Hudson side were taken down and replaced with newer greenhouses. The original greenhouses on the Wolseley side remained the same. Due to business pressure, the nursery relocated to MTL-West in 2012 and was built over.
Van Egmond Family
Dirk Van Egmond immigrated from Holland in the 1950s and bought Edgewood Nurseries from Mr. Sarazin with former partner Henk Broekhuizen in 1956. Both men had experience with flowers. Dirk's family grew tulip bulbs in Holland, and when he moved to Quebec, he got work at a nursery in St. Laurent.
Edgewood Nurseries van
Here is an image of the Edgewood Nurseries van. They used to supply fresh flowers to a number of flower shops in Montreal. Once a week they would deliver floral arrangements to the "Empress" passenger steam ships that docked on Montreal. Some residents used to ride along on the deliveries.
The Allen Family lived at 807-809 Hudson Avenue, today 5615 and 5619. Horace Allen and his wife Emily Charge were at 809-5619 and his son Sidney James and wife were at 807-5615. As we can see, the old home, built in 1924, still stands today.
Sydney James Allen
Sydney James Allen was born in 1891 in England. He came to Montreal in 1910, at the age of 19, settling down in the village of Côte Saint-Luc. He got married to Edith Annie Cowsill in 1916 at the Baptist Temple in Montreal. A florist by profession, he lived with his wife and his son, Sydney Allen Jr., on 807 Hudson Avenue.
Councillor Allen
Sydney Allen was appointed municipal councillor in Côte Saint-Luc in 1939, taking the place of Edward J. Kirwan, who had resigned his office. He was put in charge of the department of parks and playgrounds. He stayed on council until 1941 and was elected again in 1943. Mr. Allen passed away on June 1st, 1987 at the age of 96 and was buried in the Mount-Royal Cemetery.
Allen Greenhouse
The Allen family ran a Greenhouse located at the corner of Hudson and the CPR railway tracks. It was operated by Sidney Allen.
Stop 17: William Dallison first house (774 – 5606 Hudson)
Our last stop is the first home of William Dallison, located right across from the Allen Greenhouse at 774 Hudson (now 5606 Hudson). The house was built in 1920. He lived there with his wife and sons Leonard and Gilbert in the 1920s and 1930s.
By the 1950s, Côte Saint-Luc had experienced a population boom. Developers bought up many of the farms, subdivided the land, and began building homes attracting many young families to the area, particularly those who were English speaking. By 1951, the population reached 1,000 and the city became a town. The town became a city in 1958 and by 1961, there were over 13,000 inhabitants. The small predominantly French speaking Catholic farming community that had changed little in 200 years had now disappeared.
Janine West: I would like to thank some special people who have helped me construct this fascinating story of life in the Village of CSL.
Councillor Dida Berku for her enthusiasm and support. Librarian, Taleen Aktorosian, who was my partner in both research and putting together this story. Bob Dallison, the grandson of one of the first original residents, Mrs. Diane Nice Morgan, the granddaughter of another of CSL first residents, and finally Mrs. Isabel Kirwan the daughter in-law of Edward J. Kirwan. Without their personal insight into what it was like to grow up here during the 20s, 30s and 40s, our tour would have simply been about known facts and dates. They have provided us with inspiring and memorable stories far beyond what is recorded here. We will be forever grateful.