Mayor Anthony Housefather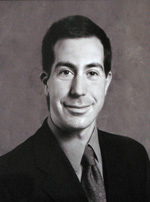 Anthony Housefather was born in Montreal, coming from a Jewish family. He attended Herzliah High School, and is fluent in Hebrew. He earned two law degrees (B.C.L. and LL.B.) from McGill University, and an MBA from Concordia University's John Molson School of Business.
On November 7, 2005, Anthony Housefather was elected Mayor of the reconstituted City of Côte Saint-Luc, winning election with 75% of the vote while former Mayor Bernard Lang received 14% of the vote, and a third opponent receiving 10% of the vote.
Housefather was a very popular and well-respected Mayor, and was re-elected by acclamation to a second term as Mayor of Côte-Saint-Luc on October 2, 2009, in advance of a November 1, 2009 vote. He was acclaimed again on October 4, 2013, in advance of a November 4, 2013 vote.
As Mayor, Housefather was very involved in provincial as well as local issues. He led the fight by bilingual municipalities against the Parti Quebecois' government's Bill 14, which amongst other things would have deprived many Quebec municipalities of bilingual status. He drafted and presented a brief with Town of Mount Royal Mayor Philippe Roy at the National Assembly of Quebec on Bill 14 on March 11, 2013.
He also held a rally at Côte Saint-Luc City Hall for religious tolerance, and led in the opposition to the PQ's Charter of Values which sought to bar any employee from wearing religious gear in schools, hospitals, municipalities and provincial government. Both of these bills were dropped.
During the years when Côte Saint-Luc was in Montreal, a collective agreement was signed by the mega-city giving firefighters a monopoly on first response, which put Côte Saint-Luc's much valued Emergency Measures Service at risk of disappearing. With the help of D'Arcy-McGee MNA Lawrence Bergman, Housefather was able to convince the Quebec Government to add a provision to Bill 22 to allow Côte Saint-Luc to operate its first-responder service permanently. Housefather also was able to work with other mayors to save a local police station and to convince the Agglomeration of Montreal to adopt a resolution allocating $44 million for the Cavendish extension. He also worked with Councilor Dida Berku and environmental groups to help preserve the Meadowbrook Golf Course as a green space.
At a local level, Housefather and his council were viewed as one of the most innovative councils in Quebec. Côte Saint-Luc built an $18 million Aquatic and Community Centre on time and under budget, and developed one of Montreal's leading aquatics programs. Under the Housefather administration, Côte Saint-Luc was the first city on the island of Montreal to launch a composting program for all single-family homes, the first to launch a food policy, and launched a farmer's market and community gardens. The median age of residents of the City of Côte Saint-Luc fell by seven years over Housefather's tenure as Mayor, as the community expanded high-quality programs for children and young adults and sponsored townhouses and other housing favorable to young families.
From Wikipedia, the free encyclopedia