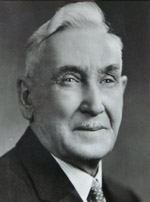 Born in 1873 in Dunvegan, Ontario, Donald Fletcher came to Quebec at a young age and lived in Côte Saint-Luc for almost half his life. As of 1915, he lived at 241 Wolseley Avenue, which became 804 Wolseley in the late 1920s/early 1930s, and finally became 5618 Wolseley when the house numbers changed once more in the 1950s. The house he lived in was built in 1914. Previously there was another house on this land that was built in 1886. Apparently, there was a beautiful rose garden next door tended by Mrs. Fletcher.
He was one of the pioneer residents of the Parish of Côte Saint-Luc and watched the community grow into a full-fledged city. He served as Alderman for 10 years, from 1929 – 1939, and was elected Mayor in 1939 until 1951. An engineer by profession, Mayor Fletcher had a keen interest in building by-laws and the inspection of buildings. He helped draft a plan whereby single-family homes and industrial areas in the municipality are kept apart. His constant encouragement to builders and zoning restrictions evoked the interest in one-family dwellings and created the subsequent growth of the City. He served as member of the advisory committee to the Mayor of the time, J. Adalbert Paris, which was formed in 1953 and remained as a member until 1958.
Mr. Fletcher was an elder of Montreal West United Church and served as its treasurer for 20 years. He passed away in 1962, at 88 years of age. He left behind his wife, Alice Smith (Agnes) Miller and two daughters, Grace and Jean Fletcher.
From: Côte Saint-Luc Archives, Lovell Montreal Directory (BANQ)