Mayor Frederic David Lamont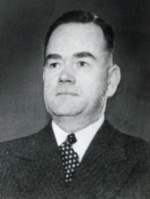 Frederick David Lamont was born in 1893 at the Stanley Street Presbyterian Church in Montreal. He married Edith Norval May Mcenzies in 1928 at the same church. Throughout his life, Lamont worked as a secretary and treasurer for various mining companies, as well as being manager for investment firms.
From 1929 to 1937, he was City Councilor in Côte Saint-Luc under the leadership of Mayor Pierre Lemieux. He served as chairman of the finance committee. He got elected as Mayor in 1938, for a one year period. He resigned on March 7, 1939 and was followed by Mayor Donald Fletcher.
Throughout his career in Côte Saint-Luc, Fred Lamont lived in the duplex at 719 and 721 Hudson Avenue (current address 5509-5511), which was built in 1925. He lived here with his wife, mother, and sister.
In 1930, he was the manager of the Canadian Stockholders Investment Corporation. In 1937, he became secretary and treasurer of a mining company called Inspiration Mining and Development. In 1938, while he was Mayor, he became department manager for Nesbitt Thomson & Co., a former stock brokerage firm. In 1941, he was the secretary and treasurer of Parron Gold mines. In 1945, he became secretary for the City and District of Montreal, occupying that position until the 1950s. Between 1947 and 1948, he is also listed as the secretary of Côte Saint-Luc.
Lamont passed away in 1969, at the age of 76, in Pinellas, Florida.
From: Côte Saint-Luc Archives, Lovell Montreal Directory (BANQ), Gazette Officielle du Quebec (BANQ), Ancestry.ca