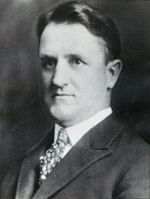 Born in Montreal in 1883, John Henry (Jack) Fyon was Mayor of Côte Saint-Luc for a period of two years, between 1951 and 1953. Under his supervision, the Village of Côte Saint-Luc was incorporated as a Town. Former Councillor and Mayor of the City of Lachine (Mayor between 1933-1939), he was elected in Côte Saint-Luc in 1951 by acclamation. In 1953, Mayor Fyon announced that he would no longer run for Mayor in the coming elections, which preempted many citizens to sign a petition to have him re-run and re-elected. Nonetheless, Mayor Fyon supported the appointment of J. Adalbert Paris in the elections of 1953.
According to Lovell's Montreal Directory, John Henry Fyon was the owner and sales manager of Fyon & Fyon Ltd. in Lachine, at 677 rue St Joseph, from 1925-1955. He also became secretary-treasurer of Goudey Gum at the same address from 1930 to 1932.
He was well known in the Canadian sport community and was a member of the Board of Trade, in addition to a number of philanthropic organizations (La Presse, May 11, 1951). In the 1920s and 1930s, he was a member of the committee of the Montreal Children's Hospital, president of the Mount-Royal Hockey League and co-president of the Montreal Hockey Carnival events held each year. The Montreal Hockey Carnival was a charity event organized to collect money for Montreal hospitals. In 1930, Jack Fyon and co-president Ross Vineberg were feted at the Windsor Hotel for their hard work and efforts in organizing the Carnival and collecting over 40 000$ for the charity.
A great local sportsman, he participated in Canadian golf and lacrosse tournaments, as well as horse races. He also enjoyed football and curling. He was even part of the board of directors of the Canadiens de Montreal hockey team.
Jack Fyon owned a farm and stables, located off of Côte Saint-Luc Road near what is now the apartment buildings. There was an annual event held in the fall every year, put on by the Côte Saint-Luc Citizen's Association. On field day, everyone went to enjoy the races, picnic, games, corn and prizes.
Jack Fyon passed away in December of 1957 at the age of 74 and was buried at the Mount-Royal Cemetery.
From: Côte Saint-Luc Archives, Lovell Montreal Directory (BANQ), Bibliothèque et Archives Nationales du Québec.