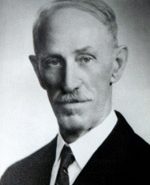 Pierre Lemieux was born in 1865. His father was also Pierre, born in 1827, and his mother was Sophie Prud'homme, born 1834, the daughter of Eustache Prud'homme (uncle of Luc Prud'Homme, first mayor of Côte Saint-Luc). His grandfather was Paschal Lemieux and his grandmother was Therese Durand. His great grandfather was also Pierre who was probably the first Lemieux to farm in Côte Saint-Luc.
Mayor Pierre Lemieux married Marie Prud'homme in 1890, who was the daughter of Luc Prud'homme and Julie Senecal. He has two sons: Auguste and Leopold. Auguste was born in 1892 and Leopold was born in 1893.
Pierre Lemieux was Councilor in Côte Saint-Luc from 1903-1904 and again from 1909-1911. He became Mayor from 1905 – 1909 and from 1912 – 1938. He resigned due to poor health and died in 1941.
Pierre Lemieux was said to be one of the tallest men in Montreal of his time, measuring 6 feet and 7 inches. (Le Devoir, September 20, 1912).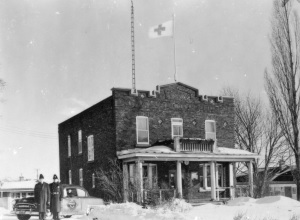 Until 1964, the City Hall was housed in the former home of Pierre Lemieux, which is now located at 8100 Côte Saint-Luc Road. The house was built in 1927 and was sold to the village of Côte Saint-Luc by his son, Leopold Lemieux, in 1946. It was used as City Hall until 1964 when City Hall moved to the École PXI building at 594 Westminster (corner Côte Saint-Luc Road). The Lemieux family had owned the land which bordered Westluke and Wolseley and ran north south almost to the CPR tracks since the mid-1700s. Prior to this, there was no formal city hall, council meetings being held in the old stone church at the corner of King Edward and Cote-Saint-Luc Road.
From: Côte Saint-Luc Archives, Bibliothèque et Archives Nationales du Québec
For more information on the genealogy of the Lemieux family, visit:
http://lequebecunehistoiredefamille.com/capsule/lemieux/genealogie
http://familles-lemieux.org/genealogie-et-histoire/les-cousins-pierre-et-gabriel/
https://www.erudit.org/fr/revues/cd/1995-n42-cd1041706/8758ac.pdf