Côte Saint-Luc: The Birth of a City from Farmland to Suburb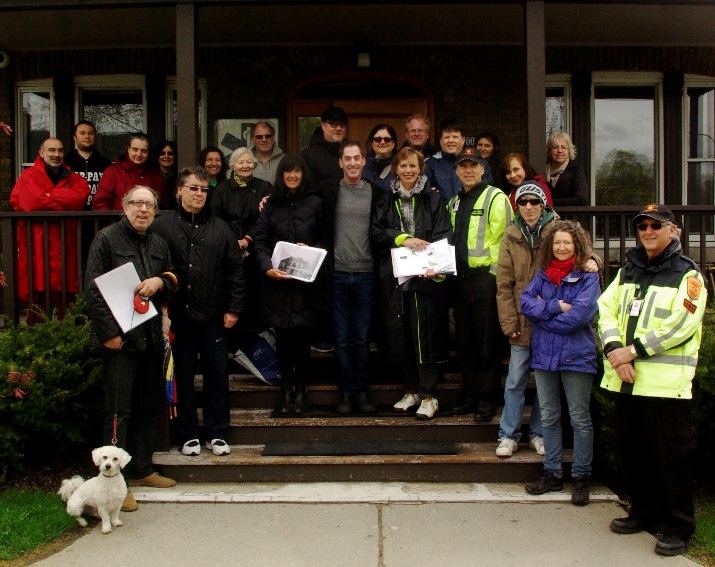 Table of Contents
Introduction
Stop 1: Prud'homme Park
Stop 2: 8100 Côte Saint-Luc Road
Stop 3: Schwartz Park
Stop 4: Brown's Land
Stop 5: Meadowbrook
Conclusion: The End of Farming
On May 6 and May 7, 2017, Dida Berku and Janine West organized and led a Jane's Walk as members of the Côte Saint-Luc Historical Society. Despite the weather, the walk attracted approximately 30 people on each day. On Sunday, we were particularly fortunate to be joined by Mike Dennis, a descendant of the Prud'homme Family.
Jane's Walks are named after Jane Jacobs, an American urban activist who lived both in New York and in Toronto. Her most influential book is The Death and Life of Great American Cities which was published in 1961 in which she argued that urban renewal did not respect the needs of urban dwellers. These walks originated in Toronto but have expanded to over 134 cities across 6 continents and have been held annually since 2007 on the weekend of her birthday, usually the first weekend in May. Participating in a Jane's Walk is a great way to get know the communities we live in.
The Côte Saint-Luc walk was entitled: CSL: The Birth of a City from Farmland to Suburb. The plan was to start at Prud'homme Park on Côte Saint-Luc Road near Westminster and walk approximately 1 km towards Meadowbrook Golf Course. The focus would be on early farming in Côte Saint-Luc as well as a discussion of Côte Saint-Luc's first three mayors who were also farmers : Mayor Luc Prud'homme (1903-1905), Mayor Pierre Lemieux (1905-1909, 1912-1938) and Mayor F. Xavier Decarie (1909-1912). We also planned to discuss the history of Côte Saint-Luc within the context of the larger history of Montreal and talk about the various locations of the City Hall.
We had prepared a map with all the various stops along the way and as well had laminated photographs to share with participants.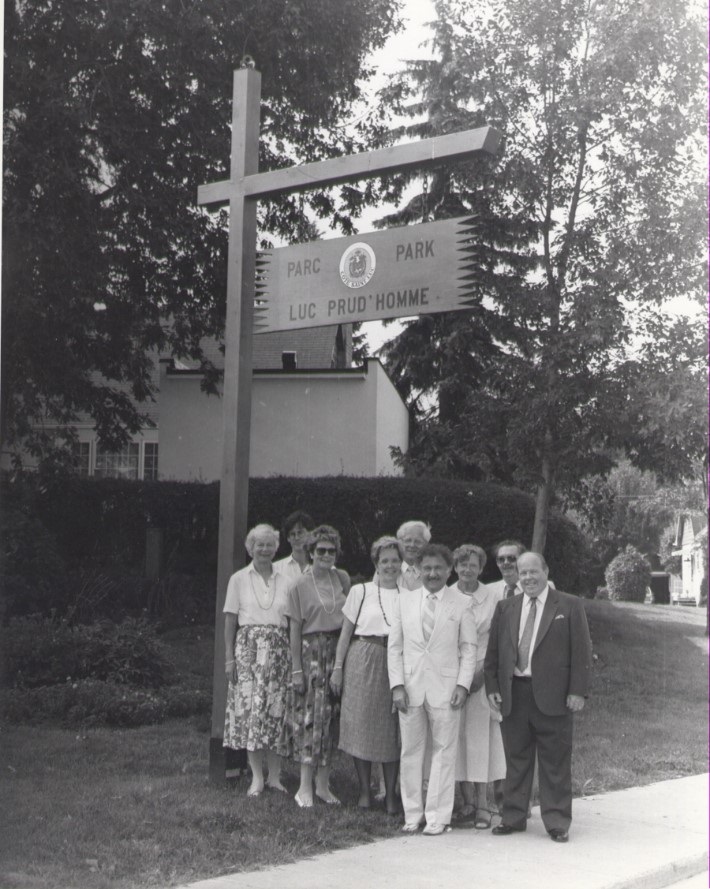 Prud'homme Park is named after Luc Prud'homme, the first mayor of Côte Saint-Luc. At this stop we talked about how the Prud'homme Family went back to the founding of Montreal. Luc Prud'homme is a direct descendant of Louis Prud'homme who arrived in Ville Marie with Paul Chomedey de Maisonneuve in 1642, who had been contracted by the Sulpicians to found a colony. The original land of Coteau Saint-Pierre, which included the lands west of Westmount, were forested and used for hunting. In the 1650s, Louis Prud'homme and others were given grants of farmland in eastern NDG as rewards for their service. They cleared the land discovering it to be exceptionally fertile. The early Prud'homme lands stretched just west of Decarie where Prud'homme Avenue now stands.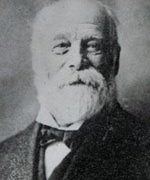 However, the first recorded Prud'homme in CSL was Jeremie Prud'homme in 1818. We are not sure, at this juncture, where his land was, however by 1872 his descendants owned the land where CSL shopping centre now stands as well as plots of land further west towards Westminster. Lots were 30 acres long and about 3 acres wide running north south. Jeremie had sons Gervais and Eustache. Gervais was Luc's father. Luc Prud'homme was born in 1834 and died in 1919. Eustache had also had sons Jeremie and Eustache Jr who inherited land. Luc Prud'homme's land was sold probably in the 1940s becoming a riding stable (Red Top Barm) and then sold in the 50s to developers.
In 1903 Côte Saint-Luc became a village seceding from the Village of Notre Dame de Grace.
The land where B'nai B'rith now stands was once a school, Ecole PXI which was later renovated and became city hall in 1964. During the late 20s, 30s and early 40s the school was used for Council Meetings. Prior to 1927, council meetings were held in the old Sulpician Church which at the turn of the century was being used as a school. The building was sold in 1927 to the Leger family.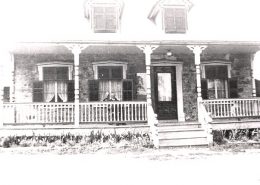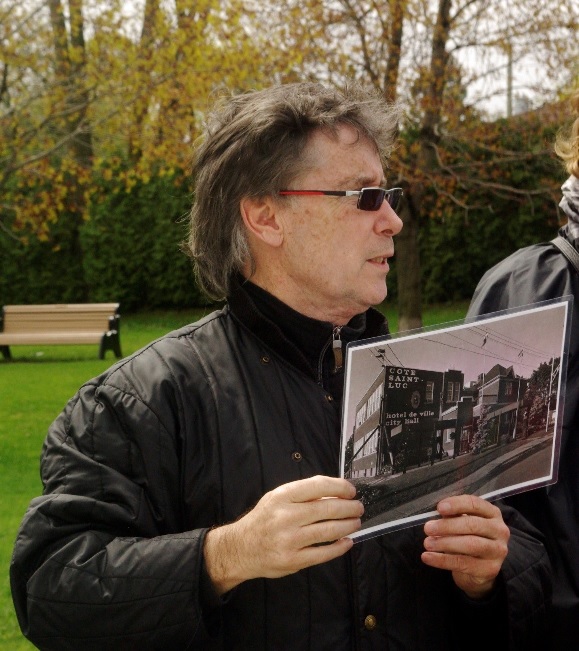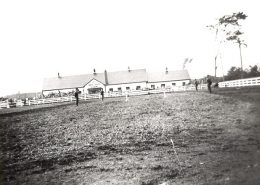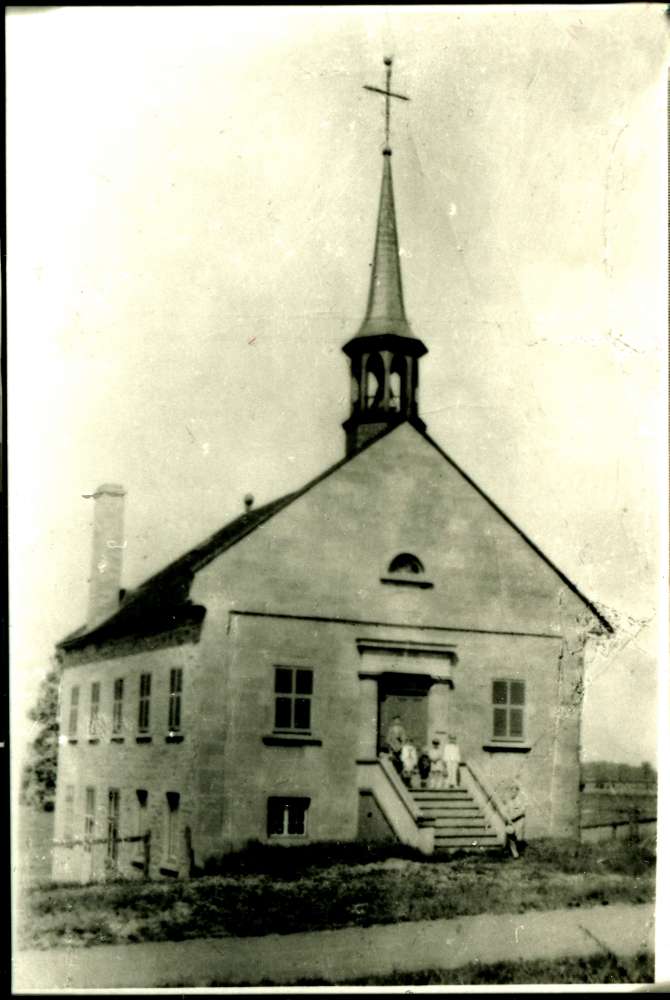 Stop 2: 8100 Côte Saint-Luc Road
8100 Côte Saint-Luc Road was the home of Pierre Lemieux, the second mayor of CSL. The house was built in 1927 and was sold to the village of Côte Saint-Luc by his son, Leopold Lemieux in 1946. It was used by the city as the City Hall until 1964 when City Hall moved to the Ecole PXI building at 594 Westminster (corner Côte Saint-Luc Road). The Lemieux family owned the land (Lot 112 and 113) which bordered Westluke and Wolseley and ran north south almost to the CPR tracks on both sides since the mid-1700s.
Pierre Lemieux was born in 1865. His father was also Pierre born in 1827 and his mother was Sophie Prud'homme born 1834, the daughter of Eustache Prud'homme. His grandfather was Paschal Lemieux and his grandmother was Therese Durand and his great grandfather was also Pierre who was probably the first Lemieux to farm in CSL. He is listed as being the head of the household in 1818. Mayor Pierre Lemieux married Marie Prud'homme in 1890 who was the daughter of Luc Prudhomme and Julie Senecal. His son Auguste was born in 1892 and Leopold was born in 1893. Pierre Lemieux was mayor from 1905 – 1909 and from 1912 – 1938. He resigned due to poor health and died in 1941. Auguste & his brother Leopold and his sister Berthe inherited the farm. It was Auguste who lived in this house and his brother Leopold who lived in a house at 8140 CSL Road. Leopold Lemieux served on City Council for 26 years, from 1922 to 1948. In 1921 Leopold married Eva Prudhomme who was the daughter of Eustace Prud'homme and Marcelline Gougeon (another prominent farming family). Leopold died in 22 June 1975.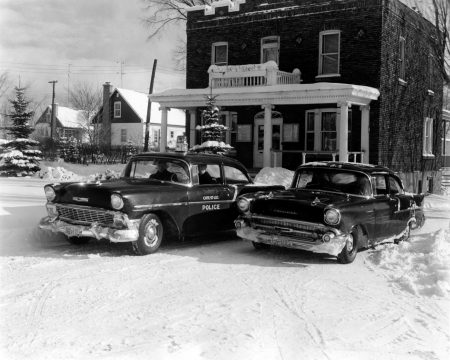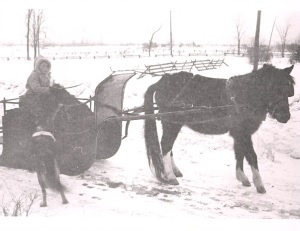 At Schwartz Park we mentioned that the park was known as Westluke Park. It was name Richard Schwartz Park in 2001. The original name of the street was Lemieux Avenue. It was changed on July 21, 1954 to Westluke Avenue.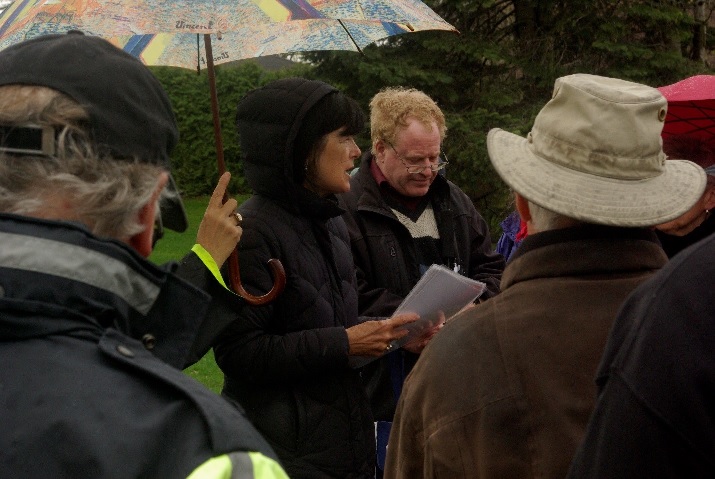 Brown's land is a small strip of land now owned by the City of CSL. It was originally owned by Joseph Decarie. The farm stretched north of the tracks between Wentworth and Palmer and was purchased by Sydney Brown at the beginning of World War II in order to protect his sons from entering the war. He was born in England around 1894 of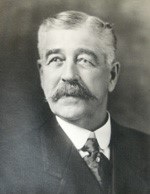 Russian Jewish parents. He sold the land after the war probably to developers and purchased a coal yard.
The Decarie family has long been associated with early farming in Montreal. The Décarie family went on to become extremely successful landowners and farmers, several acquiring land across the width of the island. They were particularly known for their melons which were exported all across Canada.
Joseph was married to Theotiste Leduc. They had 8 children including their eldest son Joseph. He wasn't born in CSL, but is listed as being from "Sur les coteaux" most likely Coteau St. Pierre – where the majority of Decaries farmed.
Francois Xavier Decarie, a relation, was mayor from February 9, 1909 to May 6, 1912 when he resigned. He was the 3rd mayor of CSL and a member of the first city council
He was born in 1859 and married Mathilda Trudeau in 1881. His father was Benjamin Decarie, a city councilor in the late 1850s-60s and his mother was Catherine Laurent. His farm was not here but in the eastern part of CSL.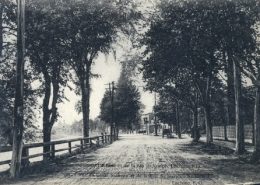 Meadowbrook used to be farmland. Meadowbrook began life in 1917 as part of the Canadian Pacific Recreation Club of Montreal when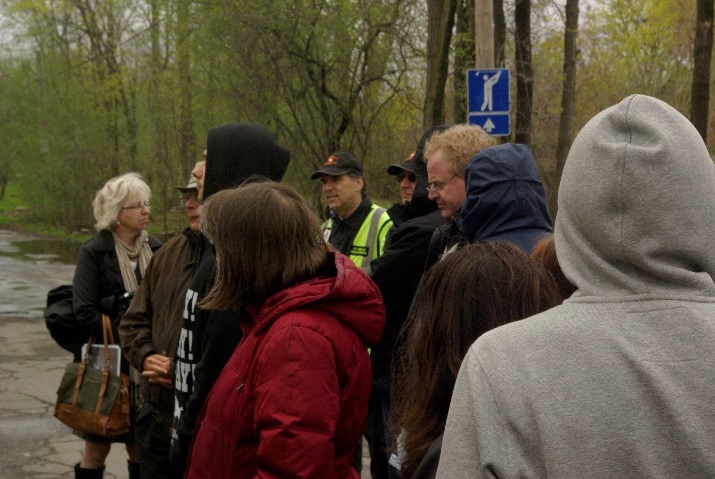 CPR bought the land for use of its employees. Construction of the golf course began after the end of the Second World War in 1945. The course was known as Wentworth Golf Course, and all 18 holes were completed by 1949.
Meadowbrook Golf Club Inc., which has been operating golf courses on the island of Montreal since the 1930s, took over the course in 1970, and it renamed it Meadowbrook Golf Club.
Farmland began to be sold to developers in the 1940s as population growth increased the demand for housing. The last farm house in CSL burnt down in 1959. It was owned by another Jeremie Prud'homme who came to CSL circa 1885 and bought a property around Westminster and Cote Saint-Luc Road. This property was originally owned by Firmin Desjardins. The address may have been 613 Westminster. It would have probably been across the street from 618 Westminster where his son, Edouard Prud'homme, lived a duplex that Jeremie Prudhomme owned. There was a huge fire in 1959 which destroyed the house. It was the oldest house in CSL at that time.