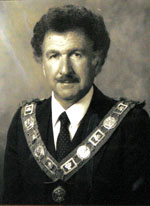 Bernard Lang was born in 1925 and was educated in Montreal. He earned two degrees in Engineering from McGill University. During the Second World War, he interrupted his education to serve in the Canadian Army, in Canada and in Europe. After graduation, he joined Rolls Royce of Canada where he reached the position of Chief Service Engineer. Subsequently, Lang operated his own company in the field of air conditioning and energy conservation.
He came to Côte Saint-Luc in 1955 with his wife Miriam. He became the Founder and President of the Côte Saint-Luc Community Swimming Pool Association, a non-profit organization serving over 500 Côte Saint-Luc families. It was the successful completion of a community swimming pool, in 1962, under Lang's presidency that prompted a number of Côte Saint-Luc residents to persuade him to seek election as City Councilor in May of 1963. He was elected by acclamation in six consecutive elections, serving a total of 13 years until in 1976, he was elected Mayor of Côte Saint-Luc, receiving 2481 votes against his only opposition, Horace Friedman, who polled 1944.
In addition to his position on the City Council, he has held numerous positions of leadership in a broad spectrum of organizations and activities, which include Camp B'nai Brith, the Jewish General Hospital, State of Israel Bonds, Allied Jewish Community Services, Canadian Jewish Congress, the Montefiore Club and is a Past President of the Beth Zion Congregation and Maimonides Hospital. In 1968, he was awarded the Israel Freedom Medal, the Queen's Jubilee Medal in 1977, the 125th Anniversary Commemoration Medal in 1993 and in 1996 he was awarded the Jerusalem Prize. Bernard Lang was the 1986 Montreal Negev Dinner Honoree and is listed in the Who's Who in World Jewry.
In 1985, Lang was selected President of the Conference of Suburban Mayors and re-elected in 1986, 1987 and 1988. He served on the Board of Directors of the Federation of Canadian Municipalities for 10 years and was a members of the Permanent Commission of the Environment.
His passion for the City of Côte Saint-Luc was unrelenting. He spearheaded the development of beautiful parks, urged the construction of the municipal pool, and proposed the creation of the Côte Saint-Luc library. His credo was "service in beautification and reasonable cost." He retired from municipal politics in 1998 and 35 years of dedicated, loyal, tireless and exemplary service to Côte Saint-Luc. It recognition of that legacy, the City Hall and library complex was named the Bernard Lang Civic Centre.
Bernard Lang passed away on June 12, 2014 at age 88.
From: Côte Saint-Luc Archives